CONTINENTALS, THE
Last updated: 30-10-2017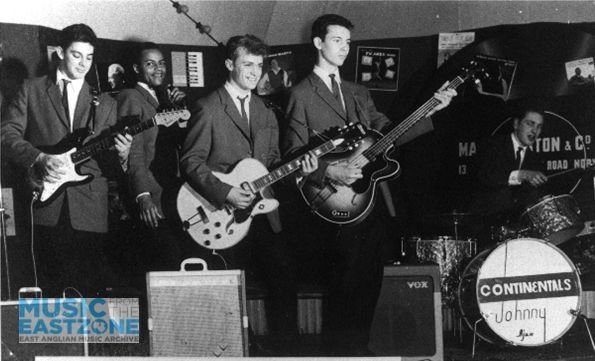 More Info Required
Also Known As:
The Continentals Guitar Group
Johnny Thompson And The Continentals
Milton And The Continentals
Mike Patto And The Continentals
Andy Fields And The Continentals
Basic Information
Active Years:
M1959 - L1966
R1977 -

Lead Vocals: David Blyth (2)Lester Middleton + Guit (3)Ricky Lee (4)Johnny Thompson
(5)Milton Ingram (6)Mike Patto
Vocals, Keys: Sid Bezants (2)Andy Field + Guit > LVox
Guitar: Mick Large (2)Rodney Kidd (3)Ivan Zagni (4)Pete Miller
Guitar: Pat Wood left not replaced
Bass: Barry Butcher (2)Harvey Platt
Drums: Johnny Pratt (2)Luke Watson (3)Denny Royal
unplaced musician:
Vic Allen aka Albert Wooldridge, drums (dep)
16th February 1977 - Peoples Night Club, Norwich reunion
Lead Vocals, Keys: Andy Field
Lead Vocals: Mike Patto guest appearence
Guitar: Ivan Zagni
Bass: Harvey Platt
Drums: Denny Royal
198? - The Globe Public House, Blofield reunion
Lead Vocals, Keys: Andy Field
Guitar: Rodney Kidd
Bass: Harvey Platt
Drums: ??
[unchecked text notes only]
none of the original band ended up in the final and what is probably considered the most successful line-up. The bands mentor and creative force up until his departure in [month required] 1962 was guitarist Mick Large. Ex Norman schoolboy Mick was a protégée of guitar teacher Bob Barbour and had done his circuit apprenticeship with skiffle group the Jack O Diamonds spurred on by close friend and early band member Barry Butcher
The Continentals history is a real piece of architecture. In May 1959 the boys had their first rehearsal above a chemist shop in Drayton Road owned by Mike's father, Donny. The nucleus of this new group were Butcher, Large, Middleton??, Bezants and briefly vocalist Blyth. Owing to the eagerness of father Donny to see the band do well after only a few months the nameless group played their very first gig as Johnny & the Hurricanes at an outdoor concert in a field near Ringland. David then left to pursue a solo career as David Valentine a name choosen to represent his idol Dickie Valentine
Sid Bezant's retired to the ranks of marraige, ensueing performances featured a string of unsettled vocalists, names such as Ricky Lee, Lester Middleton & child prodigy singer Johnny Thompson passed through the groups ranks. The band acquired it's biggest asset in black singer, American GI Sergeant Milton Ingram. Milton possessed an innate stage prescence By 196 the band had established themselves as Norwich's top group. Playing a selection of American Rocknroll & R&B pop and Milton's fresh from the USA. The Continentals success and future however lay in the young entrapanuerial skills of Mick's last recruit Harvey Platt. Harvey had up until that fateful day only dabbled in music rehearsing with & and an off-shoot of the Jetblacks called The Black & Whites with guitarist John Ramshaw, and even blagged his way onto stage with The Offbeats. Harvey joined the Continentals in Autum 1960 Barry had been struggling with a back injury and was finding the schedule hard. Barry then left to join The Checkers. The group then enjoyed a group then enjoyed a good spell Pat Wood came in on rhythm guitar, Mike Patto® would make guest appearances with the group and Milton just stole thrilled the crowds. However In late 1961 the group were suddenly on the verge of collapse, The band became more successful The Continentals achieved a first in late 1962 when they revealed The Twist to the East Anglian public on About Anglia. Milton showing the Audience the steps and interviewed by John Byles It was then agreed that the group could continue without Milton and in a mutual agreement finished in late 63. Andy from hear took on all vocal responsibilities and saw the group titled The Continentals featuring Andy Fields from early 1964. With Andy at the helm the group paid two more visits to the recording studio firstly to London's Regent Sound in Denmark street and then to Jack Jacksons studio in Rickmansworth to lay down a version of Road Runner. It was around this time that the Continentals appeared on TV performing Can I Get A Witness & Unchained Melody. The demise of Mike Patto's Bluebottles saw him once again become guest vocalist with The Continentals in early 1965 an association that continued with the band even during in late 66 from 196 to the end of it's days The later line-up has performed many reunion concerts the last At this point Harvey Approached Ivan Zagni who had been playing with .He agreed to help out and stayed It was the final four piece line up that recorded at studio . Harvey brother Howard (See Garret –Waite) that pushed this onto Decca. in 19 on the advice of there record label the group became The News and debuted on the Decca label supplying the theme tune for ITV's detective series Adam Adament. In 1966 The News first single appeared on Juke Box Jury and was 22 the final vote in a tie went to the Audience and they voted it a hit, and a hit it was if only in east anglia that is. Mick large remained at large with his last sighting being by former band member David Blyth who spoted him playing with the Chico Arnez Band whilst down in Torquay Of the Continentals legacy, Sid Bezants is a retired postal worker and still enjoys playing his keyboard at home. Mick Large is believed to be residing in Birmingham as a guitar tutor. Milton was posted to Japan were he continued singing but sadly died of cancer in 199 after return to the USA. Since the groups official demise the final line-up have performed several highly successful reunion gigs. The first being 197
Discography:
Actd This Magic Moment b/w Apache[ ]196?
Actd There She Goes b/w Tell Me What Youre Gonna Do [ ]1964
Actd Road Runner b/w Can I Get A Witness[ ]1964
Actd The Entertainer b/w I Count The Tears [ ]1965
The Continentals also produced audition tapes for The Saturday Club recorded at in Norwich but these tapes were never used on the show and are now sadly lost.
Mediography & TV:
ITV - About Anglia ~ The Twist[ ]196?
BBC - Look East ~ Can I Get A Witness / Unchained Melody[ ]1964
(Zagni -The Cadillacs) Big Beat Four / Jack O Diamonds <> The News (Butcher -The Checkers) (Kidd - The Cadillacs) (Watson - Cadillacs) (Thompson -The Kings Men) The Challengers
REUNION 16th February 1977 at PEOPLES NIGHT CLUB
ANDY/IVAN/HARVEY/ROYAL - Mike Patto sang a few numbers.
500 tickets sold. Support bands were Murphy Brother and Fly By Night Removals. Boz Burrell and Joe Williams in attendance.