BIG BEAT FOUR, THE
Last updated: 12-01-2014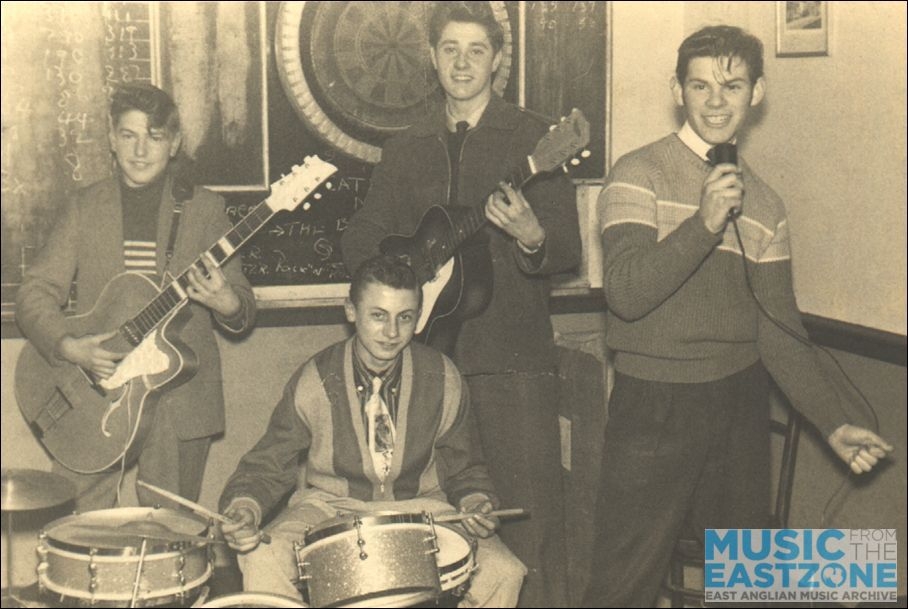 More Info Required
Also Known As:
The Big Beat Quartet
Ricky Southern And The Big Beat Four
Basic Information
Active Years:
E1959 - E1962

Lead Vocals: Peter Read aka Ricky Southern
Guitar: Rodney Kidd (2)Mick Large
Guitar: Mike Lorenz
Piano: Andy Field added member
Bass: Pat Baraskill
Drums: Denny Royal (2)Luke Watson
[unconfirmed recheck]
The Big Beat Four or The Big Beat Quartet as they were originally called had evolved from the final line-up of The Neptunes skiffle group with the addition of ex Blue Star Rodney Kidd on guitar. The group became the first 'pop' house band at The Grosvenor Ballroom, Norwich in 1960. In April 1961 Peter Read adopted the stage name Ricky Southern and continued to head this and many other acts under the pseudonym. His Roy Orbison vocal style made him very popular
Thorpe St Andrew Schoolboy Rodney Kidd had been skiffling from the age of thirteen, at first strumming a washboard. He formed a skiffle group with school friends called The Blue Stars and would perform at venues like The Lewis Buckingham Club. There he was spotted by The Neputunes skiffle group and was immediatly asked to join them. The band became The Big Beat Four and a popular city favourite overnight.
In [date required] the group were the first 'pop' band to play The Grosvenor Rooms after they had decided to host a Live music evening. The management were so impressed they were asked to play at the venue regulary
Rodney left in [date required] to join the well established local outfit The Continentals, In return ex Continental Mick Large joined The Big Beat Four. Following in the steps of Rodney were Andy Field and then later Denny Royal as they both went on to become members of The Continentals. In February 1962 Peter Read replaced [name required] as The Jetblacks frontman
The group folded in [date required] and Denny took a breather from the scene whilst he brushed up his qualifications at College returning to the scene in [date required] when filling in for measle ridden Luke Watson of The Continentals
Supports: Shane Lee & The Chancellors
(Kidd -The Blue Stars) (Field -The Offbeats) The Neptunes <
> CBO Incorperated / The Continentals (Baraskill -The Contours) (Southern -The Jetblacks)