OFFBEATS, THE (2)
Last updated: 24-02-2014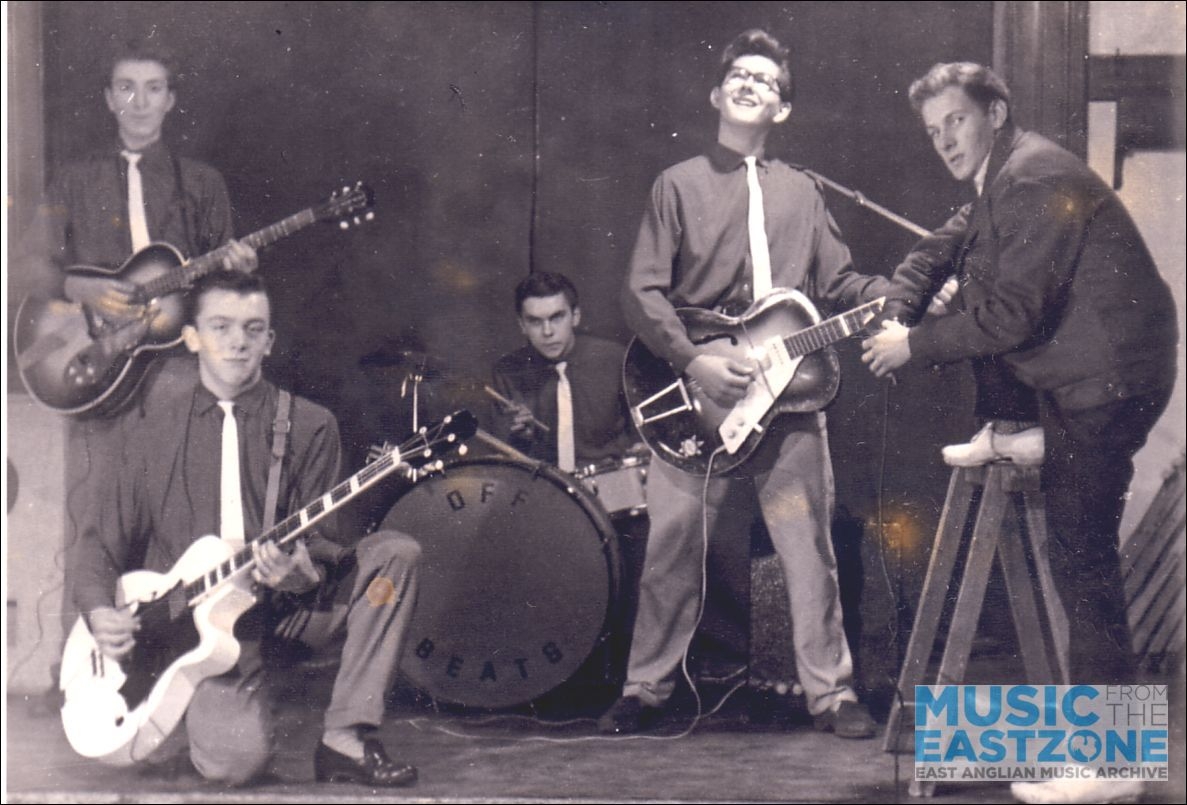 More Info Required
Basic Information
Active Years:
L1959 - C1962

Lead Vocals: Tony Woods (2)Andy Field
Guitar: Pete Miller (2)George Parsons
Guitar: Mike Lorenz
Bass: Dave Wilson (2)Mike Parish
Drums: ?? (2)Luke Watson
It was the singing, duck walking and without doubt guitar playing of Chuck Berry in the 1956 movie Rock Rock Rock that spurred King Edward school boy Pete Miller to become a guitarist. Future bass player Dave Wilson was at school with Peter and also caught the bug for Rock'n'Roll and they rehearsed together. Early Gigs were played under the name The Norvitones.
They were soon joined by Luke Watson on drums and practices moved to the Sprowston youth club. The line–up was complete when guitarist Mike Lorenz joined and Tony Woods became vocalist. The group gave there first public performance at the Blythe School Hop on 19th December 1959 and Pete Miller & the Offbeats were born. It wasn't long before Dave Wilson realised that his career came first and left the group to be replaced by Mike Parish. Dave's musical days didn't end there. In 1962 Dave set off around the county as an ECN reporter and settled for a while near Dereham were he formed beat combo The Sunshiners, who apropriatley enough became a regular act at the Sunshine Rooms, in Dereham. Tony Woods also departed to join new city outfit The Jetblacks and Andy Field came in with the added range of being able to play guitar and play piano. The group then became Andy & The Offbeats
The bands days were numbered when they supported groups biggest support slot came in [date required] when the group backed the up and coming Jaywalkers at the [venue required] The Jaywalkers were really impressed with Pete Millers guitaring and a few days later asked him to join the band
By the time The Offbeats called it a day in [date required] the remnants of the band had moved on to form The Big Beat Four
Supports: Peter Jay & The Jaywalkers
Discography:
Actd "INTRODUCING THE OFFBEATS" - Tribute to Hank B/Lueji/Vesuvius/Clump/Warble in a Persian Harem.Variations on a Jam Session. Magnegraph Records[ ]1959.
(Lorenz - The Jailbirds) <> Big Beat Four (Miller - The Jaywalkers) (Woods - The Jetblacks)