DOWNHOMERS SKIFFLE GROUP, THE
Last updated: 13-06-2017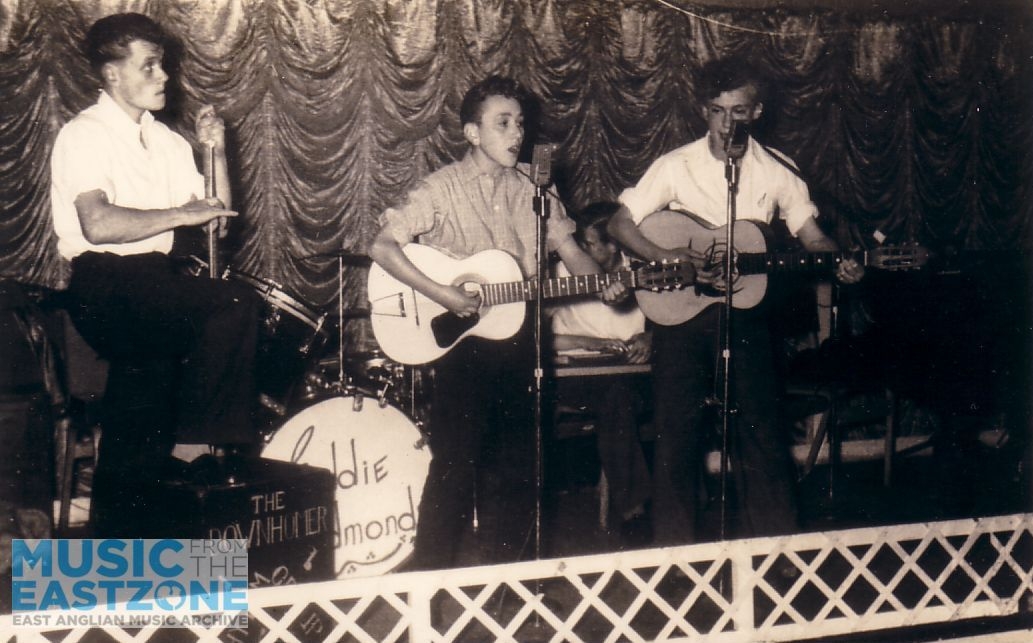 More Info Required
Also Known As:
The Downhomers Rhythm Group
Basic Information
Active Years:
E1957 - M1958

Lead Vocals, Guitar: Morris Lang (2)Lester Middleton
Guitar: Neville Cox (2)Pat Wood
Tea Chest Bass: Keith May
Washboard: Mervin Claxton
Drums: Brian Bates (2)Peter Moore
The Downhomers Skiffle Group first appeared in March 1957. Drummer Bates said, "The original outfit met as part of St Thomas Youth Club in Earlham, Norwich." Bates later left to join The Sinners Skiffle Group. In November 1957 the group started to host its own club night within the city at The Herbert Frazer Hall, which at the time was a large second-hand wooden workman's hut at the back of The Norwich Labour Club. The group would play along with a guest band and although the club didn't last long, it did host one of the two Saints Skiffle Group farewell shows (15/11/57) that occurred before the band headed for London. Later members Wood and Middleton joined from the CNS school and in June 1958 they entered The Skiffle Of The Year Contest put on by promoter Norman Guest at The Orford Cellar. Although the band were unplaced, Middleton did make the headlines that night when he collapsed on stage through heat exhaustion. In mid 1959 Middleton left when he was asked to join city luminaries The Continentals after they had seen him performing Teenager In Love at The Morning star PH, Norwich. The group folded later that year with Wood joining The Challengers before becoming a Continental himself. Cox is later mentioned as jamming with The Beatniks.
Lester Middleton joined the group after buying a Spanish guitar from Woods Music Shop, Dove Street, Norwich. He later gave the guitar to Michael Dyball who went on to form the Alysham band The Teenbeats, all of who were later to become members of The Brother Lees.
Mediography:
Skiffle singer collapses in city cellar contest EEN 01/07/58
Resident:
Downhomers Skiffle Club, Herbert Frazer Hall, Norwich 1957
NB: Notable by their absence, the band are not listed as entrants in Norwich's first Skiffle contest at The Industrial Club in June 1957 although being regular performers at the venue!
<> The Continentals / Challengers