JAYWALKERS, THE
Last updated: 14-11-2017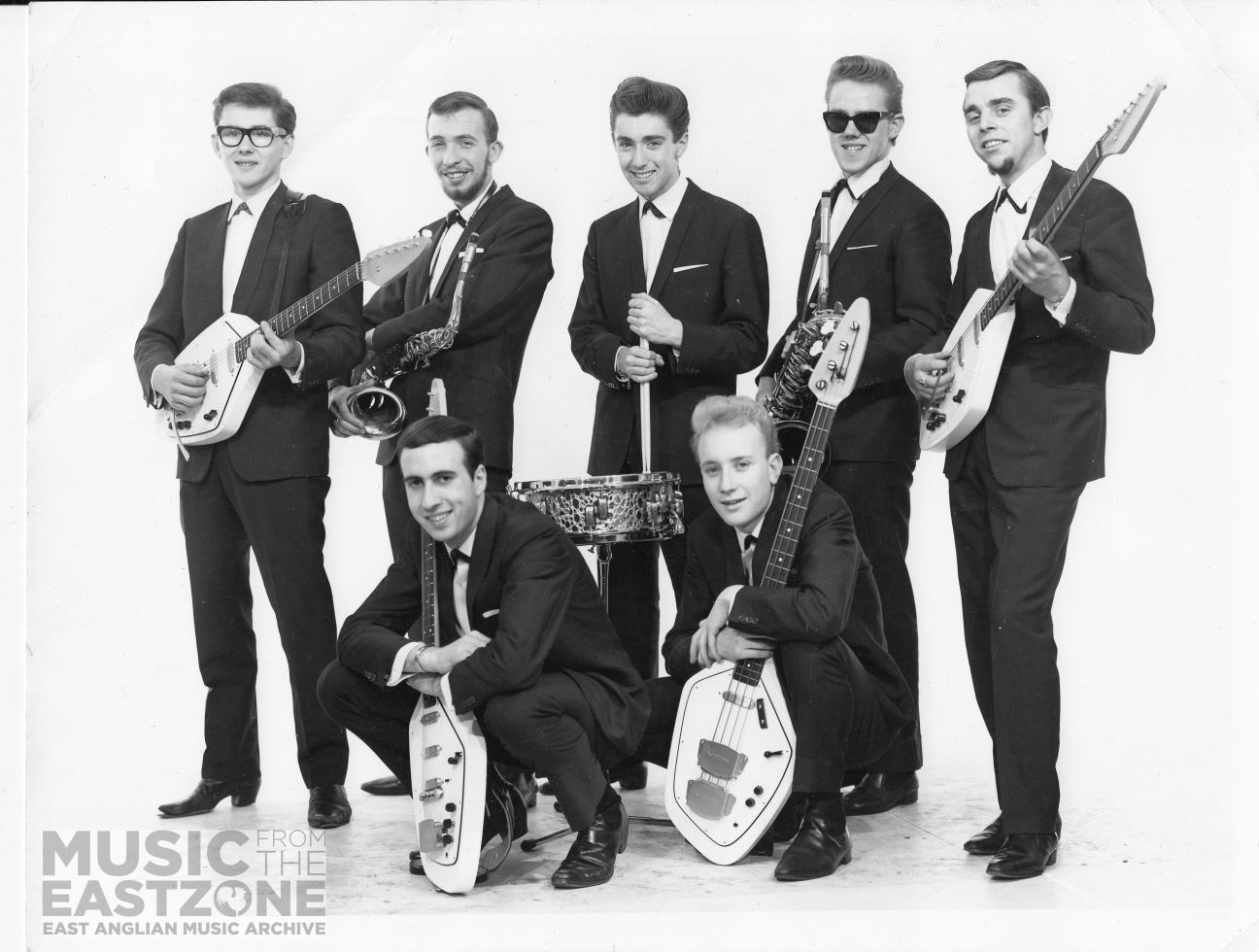 More Info Required
Also Known As:
Peter Jay And The Jaywalkers
Terry Reid And The New Jaywalkers
Terry Reid With Peter Jays , Jaywalkers
Basic Information
Active Years:
L1959 - C1967

Record Labels
Lead Vocals, Guitar: Terry Reid
Piano: Matthew Fisher added member, left not replaced
Guitar: Pete Miller added member
Vocals, Guitar: Tony Webster left not replaced
Bass: Johnny Larke
Bass: John Cole (2)Geoff Moss
Sax: Mac McIntyre
??: Ian Saunders
??: Brian Hayward
Bsax, Piano: Lloyd Baker
Drums: Peter Jay
1995 - U.E.A, Norwich reunion
Sax: John Tuttle
Bass: Geoff Moss
Drums: Peter Jay
[unckecked]
In 1960 Peter was attending Norwich City College on Ipswich Road, studying television production with the view to a job in the broadcasting industry. It was here he was seemingly mobb handedly recruited by a group of leather clad hopefuls who after some culling were to become The Jaywalkers.The boys practice in the theatre room every lunchtime, and were well
influenced by The Sound of the Piltdown Men. Many friends & musical enthusiasts had joined the lunchtime jams
Pete was the last member to join having been spotted in local outfit The Offbeats
The year of 1961 and early 62 were spent perfecting their act and building up a loyal following. By the of '62 the group had worked hrrd enough to get the attention of Dick Rowe of Decca The young were put under the wing of the labels top producer Joe Meek (05/04/1929 - ) born in Glochester Joe had a troubled background being abused as a child he perfected his electronic wizardry as a radar technichian in the RAF before starting his legendart home studio in Lansdown Road. He was to be a big influence on Pete Miller who had himself already started recording his own material at his home studio in Norwich.
A handy article to try and pick up is a copy of . This contains an indepth interview with Peter recounting release by release highs & lows. In hind sight the band could be classified as one of the earliest Underground Bands, as the only thing that had eluded them was chart success. By all recollected accounts the band were not to be missed live!
The bands first big break came when they toured England with the Beatles in 196
In a desperate attempt to grab that elusive hit Peter travelled to America to return with 'Where did our love go'
All set to head off to America with The Beatles the band suddenly found they had been dropped in favour of their rivals sounds incorporated. It wasn't until much later that they had learned that their agent had hiked up their price . Peter attempted to relaunch a remoulded & slim lined version of the band in April '67 only containing originals Larke & Jay the new Jaywalkers band made few appearances before calling it a day. Peter moved on to for the Hymn. Peter Miller went on to join The News, albeit in their twilight years and dabble in small solo recording projects.Peter Now runs the Bourbon Street on Marine Parade in Gt Yarmouth
One record that never saw the light of day and one that according to Moss may have brought the band success was their version of Do You Love Me. Moss said "The track was also recorded by our label mates Brian Poole & The Tremeloes and despite lots of fans complaining Decca choose their version for the release. At the time [1962] we were looking to make that leap from instrumentals to vocal pop and this song really suited the band" The furore did make the pop newspapers but was soon forgotten as The Tremloes version shoots up the charts to number ??.
Autumn tour with beatles & brook brothers 33 dates uk tour 1963
Tours:
A Star Spangled Night UK 17/10/1961-12/11/1961
The Big Star Show UK
The Beatles UK Tour 1963
The Rolling Stones Tour UK
The Beach Boys Tour UK
The Hollies / The Small Faces Tour UK
Discography: Actd My Blue Heaven b/w [ ] 7" Can Can 62 b/w Redskins ~ Decca F11531[ ]62 lst/7" Totem Pole b/w Jaywalker ~ Decca F11593[ ]63 lst/7" Poet & Peasant b/w Oo la la ~ Decca F11659[ ]631st/7" Kansas City b/w Parade of Tin Soldiers ~ Decca F11757[ ]631st/7" You Girl b/w If You Love Me ~ Decca F11840[ ]641st/7" Where Did Our Love Go b/w Caroline ~ Piccadily 7N35199[ ]64 lst/7" Tonight You're Gonna Fall b/w Red Cabbage ~ Piccadily 7N35212[ ]641st/7" Parchment Farm b/w What's Easy For Two ~ Piccadily 7N35220[ ]651st/7" Before The Beginning b/w Solitare ~ Piccadily 7N35325[ ]651st
Compilation Appearences - Ct 12" Ready Steady Go ~ Kansas City Decca [ ] Ct "The Piccadily Story ~ Can Can 62/Ct 20 One Hit Wonders Vol 2 ~ Can Can 62. VYN12" CM124[ ]83/Ct 20 One Hit Wonders ~ Can Can 62. CD C5CD607[ ]93/Ct Highly Strung Instr Diamonds Vol 2 ~ Caroline. CD NEXCD150[ ]91/Ct Out Of This World Instr Diamonds Vol 3 ~ Before the Beggining/Red Cabbage featuring Eric Delany . CD NEXCD244[ ]93/Ct Now Hear This ~ Can Can 62. CD 8207742[ ]89/Ct Pop Inside The Sixties Vol 2 ~ Kansas. CD SEECD399[ ]94/Ct The Sixties Explosion ~ Kansas City. CD [ ]88/Ct Sixties Lost & Found Vol 3 ~ Kansas City. VYN12" CM126[ ]86/CD Instrumental Gems Vol 1, Big Beat Instrumentals ~ Red Cabbage GEMCD008 [ ]97.
Mediography & TV:
City students rock London EEN 28/05/1960[ ](P)
We don't like cover discs either RM 11/09/1964[ ]
GBOBHS 1st Pub[ ]1977
BDOP 78/45 rpm Singles Vol 1 Pub [ ]1986
GWWOSM Pub [ ]1992
Pipeline Instrumental Review Issue 23 Summer [ ]1994
This issue is given over up to Peter Jay telling the groups recording & the Jaywalkers many photographs, no discography.
(Miller - The Offbeats) <> Hymn (Miller - Solo)
Trivia:
1: The Who's first encounter with The Jaywalkers was in Scotland at The Fab 64 concert in September 1964 at The Kelvin Hall Arena, Glasgow. It's said the double bass drum set-up of Jay's kit, which lit up while playing with Cymbals that would produce sparks on contact with carbon rods wired to the mains! inspired Keith Moon to do likewise.

2. In the 1962 local Wokingham band The Defenders were banned from playing the Peter Jay and the Jaywalkers version of the Can Can which caused the audience (many wearing climbing boots) to jump up and down and stomp their feet, as the management feared it would damage the hall.

3. From late 1962 to early 1963 David Robert Hayward Jones aka David Bowie (1947-2016) would change his name to David Jay while in his first band the London based Konrads (June 1962-?? 196?). Jones said at the time "The Jaywalkers were only one of two British bands that knew anything about Saxophones" Jones admired the sax heavy group and it's over the top live show. It's also said that Bowies 80's comeback styling with the brightly coloured pastel suits was also a nod back to The Jaywalkers who bucked the trend of the day by not all wearing the same thing like many of the groups but all wore different loose fitting brightly coloured suits. NB: Although not said it is believed that Sounds Incorporated may have been the other band (unconfirmed) Website & source: bowiewonderworld.com
4. In 1966 the tour with Paul Jones meant the group needed to add a keyboard player. Jay brings in keyboard player Matthew Fischer. Fishers annoys the band by .......... ame up with the riff for A Whiter Shade Of Pale while in The Jaywalkers and touring with Manfred Manns, then solo Paul Jones.
5. 196? Ex Jaywalker frontman Terry Reid turned down joining Led Zepplin but recommends friend Robert Plant. It is later noted that the reason for turning down the band was that Reid was under contract to mickie most.

6. I was always interested in 'showmanship' and so after seeing the then famous Peter Jay and the Jaywalkers where Peter Jay the drummer had flashing lights in his drums, I copied this idea (which was quite revolutionary at the time - light-effects were a fairly new thing in pop music then) and created my own flashing drums! Of course this meant I had to do a solo each night and everyone seemed to remember it because when we returned for subsequent bookings, people asked when the 'illuminations' were going to start! I was also an enormous fan of the great showman drummer Eric Delaney and so my solos were based on a mix of his style and my own. Of course I was nowhere near as good as him, but I managed to 'con' my way through twenty minutes of skin-bashing! But I think maybe the audiences enjoyed the light show more than my racket! A few years ago the Sentinel nostalgia magazine 'The Way We Were' did an article on me in particular the flashing drums bit!Extract from drummer Barry Knappers website