SWINGIN VIBROS, THE
Last updated: 06-09-2017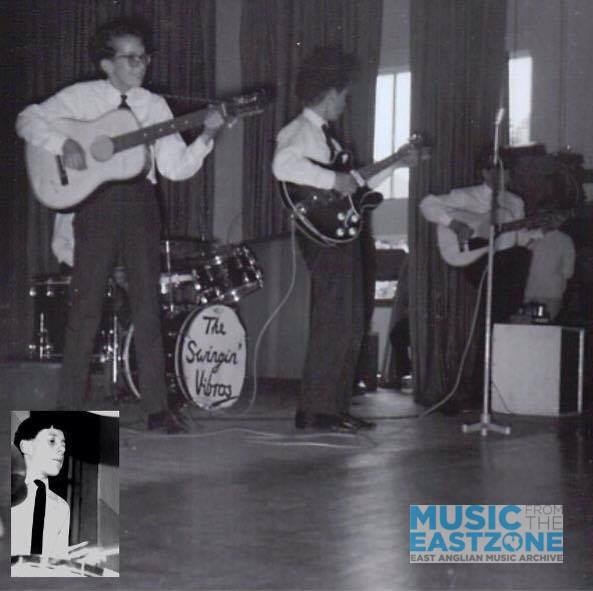 More Info Required
Basic Information
Area:
Cambridge, Cambridgeshire, Uk
Active Years:
E1963 - 1960s

Lead Vocals, Bass: Nick Barraclough
Vocals, Guitar: John Anderson
Guitar: Bryan Carling
Drums: John Willy Wilson
In July 2008 we had a Barraclough, Carling, Wilson reunion gig in Cambridge performing under our original name The Swingin' Vibros. source: J.Wilson 2010
"We started as a trio in about January 1963 with Nick Barraclough (for years a popular BBC Presenter, folk and blues musician and music historian) playing bass and guitar and responsible for much of the arranging. I remember he was good at dissecting songs and figuring out the chords. We made out share of mistakes. We copied the songs of the Beatles, Stones, etc. I Wanna Be Your Man, Roll Over Beethoven, She Loves You, Walking the Dog by Rufus Thomas. We also played a couple of instrumentals including the theme from the "Zed Cars" TV show, he he!)
Nick Barraclough at the time lived on Blinco Grove in Cambridge, right in between the school we all went to until 1962, Morley Memorial and on the other side, the church where the three of us learned to sing, as choir boys!
We were in a boys choir at St. John the Evangelist Church in Cambridge until they summarily kicked me out for talking too much and cracking too many jokes! He he... Nick is now living in the Cambridge area and still working at the BBC (as far as I know) and playing live music.
Rhythm gutarist John Anderson lived off Cherry Hinton Road just on the other side from where Blinco Grove interesects, on a dead-end street. His mother had just won a refrigerator in a cereal box contest! John hasn't been heard from in many many years. John Anderson strummed the rhythm guitar, usually an acoustic. That was all we had back then. We all lost track of him long ago.
Nick Barraclough was generally the lead singer, and was a good vocalist. He played bass, and I played lead guitar.
Our drummer from the Vibros was John "willie" Wilson... age 16 at the time. He contacted me recently, and John is still playing drums in Yorshire. All of our guitars were acoustic at first. For one "gig" we managed to electrify as follows:
I borrowed my brother's nice EKO semi-acoustic and his amplifier. WE had one mike for vocals fed into the same amp(!) and for one of the other guitars, we would just toss a tape recorder mike into the sound hole and connected it to a little fve watt amplifer. It did work though!" source: Bry Carling Website 2017