GROSVENOR ROOMS, THE
Last updated: 22-11-2017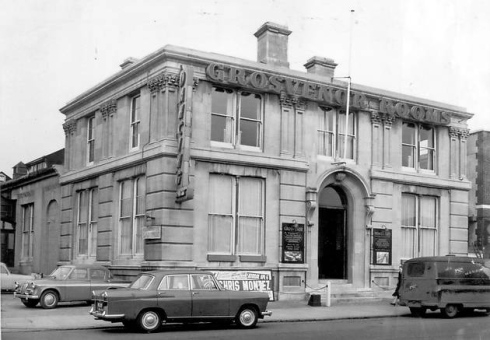 Also Known As:
Prince Of Wales Chambers
New Assembly Hall
The Grosvenor Ballroom
Basic Information
Category:
Venue
Opened/Closed:
PRE 1955 - 1964
Address:
110A PRINCE OF WALES ROAD
The New Assembly Room
The Prince Of Wales Cinema 1912-1922
The Prince Of Wales Chambers
The Grosvenor Rooms 20/12/1956 - JUNE 1963 (demolished in [month required] 1964)
The Grosvenor Rooms were situated at the Foundry Bridge end of Prince Of Wales Road. Originally built as The New Assembly Rooms it became The Prince Of Wales Cinema in June 1912 during the silent movie era and became known for its creaking wicker chairs. The cinema closed in 1922.
In the mid fifties it started putting on Jazz and Skiffle concerts and is known for being one of the first major establishments to embrace the coming of the Teenbeat era (possibly based on the fact that it wasn't doing so well). Most famous now for the visit of The Beatles on the 17 May 1963, backed by popular local outfit Ricky Lee & The Hucklebucks. As a local venue it saw early performances from honorary fifth Beatle and local lad Tony Sheridan and also Queen of the Blues, Norwich born Beryl Bryden. Demolished in 1964, nothing remains of the original building. A blue plaque has been mounted on the side of fast food restaurant KFC on what is now an office block named Grosvenor House.
Resident bands:
Neville Bishop & His Orchestra Dec56-Jan56
The (New) Grosvenor Orchestra, directed by Jan Smuts Jan57-
Jock Brennan & His Orchestra Jan58-
Old Tyme Dance Residents:
Fred Bird & The New Old Tyme Orchestra Jan57-Dec57
Maestro & His Orchestra Feb58-

Clubs & Sessions:
The 59 Jazz Club Feb57- (originally held at The Herbert Frazer Hall, Nch)
The Norwich Modernists Jazz Club Mar57-
Jazz Main Stream Nights ??57-
SCENES: '50s Big Bands, Jazz, Skiffle / '60s Jazz, Beat, Blues