TEA TIME FOUR, THE
Last updated: 11-03-2014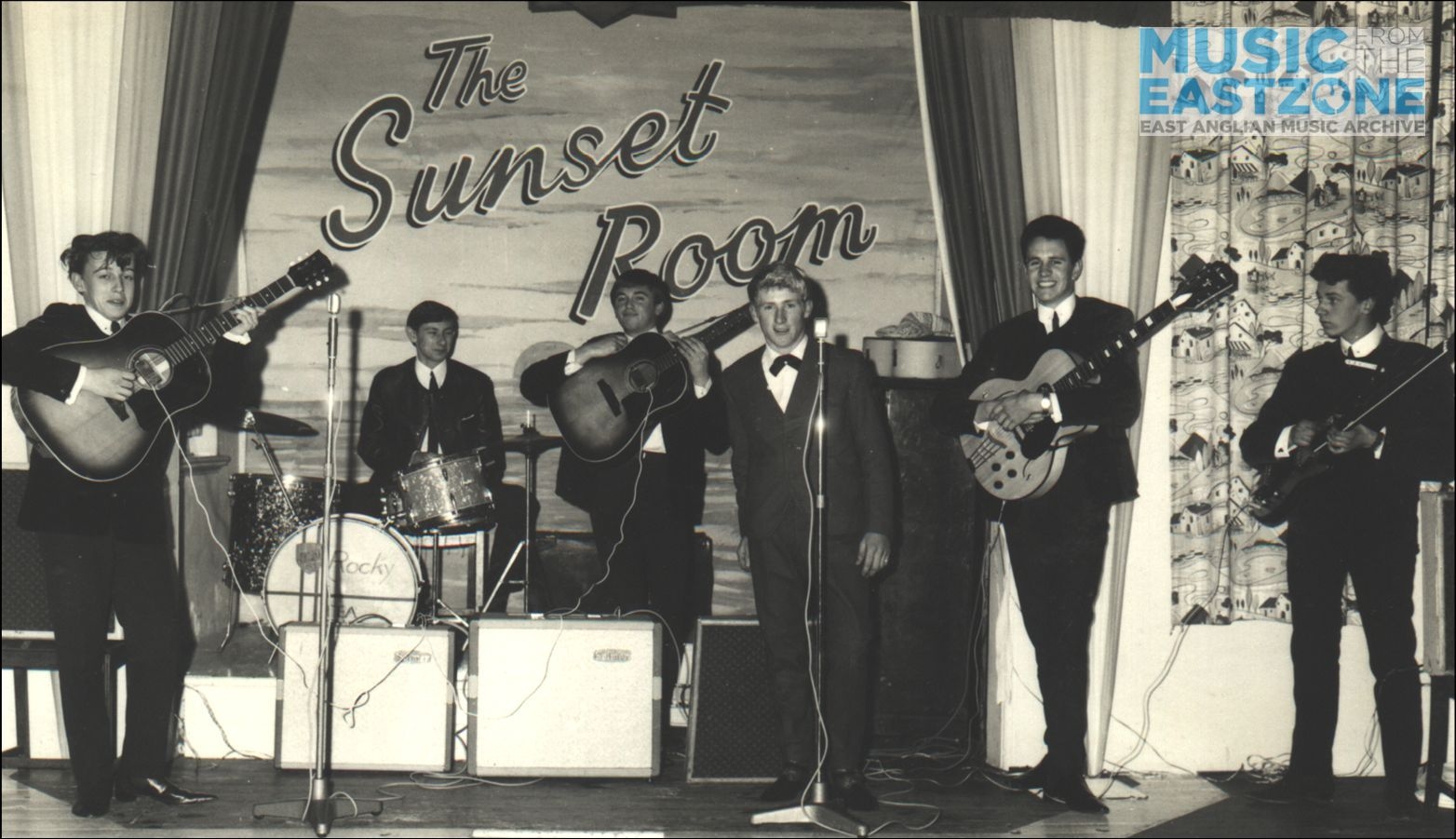 More Info Required
Also Known As:
Lombard And The Tea Time Four
Mike Prior And The Tea Time Four
Basic Information
Active Years:
M1963 - M1965

Lead Vocals: Dick Woods aka Lombard (2)Mike Prior
Ac Guitar: Raymond Boz Burrell
Ac Guitar: Barry Fats Dean > Bass
Guitar: Bernard Rudd
Bass: John Cork (2)Barry Fats Dean (2)Bernard Barton Aug 64-
Drums: Brian Rocky Brown
This exceptional R&B band formed in Kings Lynn in 1963 first performed under the designate Lombard & The Tea Time Four at Gedney Village Hall on [date required]
The band formed after Bernard, Boz and Brian met at County Technical College. Early changes in line-up were Barry Dean moving from acoustic guitar to Bass after the departure of John Cork
In February 1964 the group were voted best beat band in the West Norfolk region in a poll run by Bayes records of Kings Lynn and run in conjunction with the Lyn News & Advertiser. Winner of best regional vocalist went to Mike Prior previously of The Escorts who had coincidentally replaced Dick Woods as the tea timers vocalist during the event of the competition.
The group excepted their award and were cordialy asked to appear on BBC East at 6.10 on the same day. Under close scrutiny the groups managers Jack Barrie and Colin Atkinson of AB Entertainments realized the band had potential and kepted many of the groups projects under wraps. Bob Booth recalls their visit to his studio in 1965 "The Managers took everything the group did with them, out takes everything, as far as I know, none of it was ever released, they were a good band."
in [date required] the band signs to the Robert Stigwood agency who book the bands gigs
Bernie Barton Joins in August 64. The TT4 were the first group to play at the new Bedford Beat spot in Norwich, opening the club on Saturday 22nd of August 1964
In November 1964 the groups efforts in a London studio had not yet been released and it appears to all intense and purpose remain so and the rumours of a release through RCA Victor never materialise
The bands line-up constantly changed during 1964, seeing a cluster of local performers moving through it's ranks all of who were quite capable of making in onto the professional circuit
It was the trim four piece of Burrell/Rudd/Barton/Browne that turned professional and moved away to London on May 1st 1965, after finishing a UK tour in November 1964 supporting PJ Proby & The Pretty Things [confirm tour dates]
In June 1965 without achieving the single release that would surly have put their name on the map they became known as Boz People an event that only appeared in hindsight to prolong the bands inevitable break up some months later
Supports: Johnny Kidd & The Pirates / The Group With No Name / Dave Berry & The Cruisers / The Rockin' Berries /PJ Proby / The Rebounds / The Barron Knights / The Prestons / The Tornados / The Beatmen / The Pretty Things / Manfred Mann / Shane Fenton & The Fentones / Blues By Five / The Pickwicks / The Yardbirds / Peter Jay & The Jaywalkers / The Federals
Discoraphy:
RtR For You 04/05/65[ ]
Mediograhy:
Lynn R&B group go on UK Tour UP 29/10/1964[ ](P)
Norfolk Group are in the News NMJ 06/11/1964[ ]
Pick Your Top 'Beat' Group LN ??/??/1964[ ]
Tea Time Four & Mike Prior win the challenge trophies LN 25/02/1964[ ](P)
TV: BBC East at 6.10 - 25/02/64[ ]
Smiles all round LN 03/03/64[ ](P)
(Barton - ??) (Prior -The Escorts) <> Boz People (Prior -The Pagans) (Barton - ??) (Cork - The Likely Lads)