TEA TIME FOUR, THE
Last updated: 30-10-2017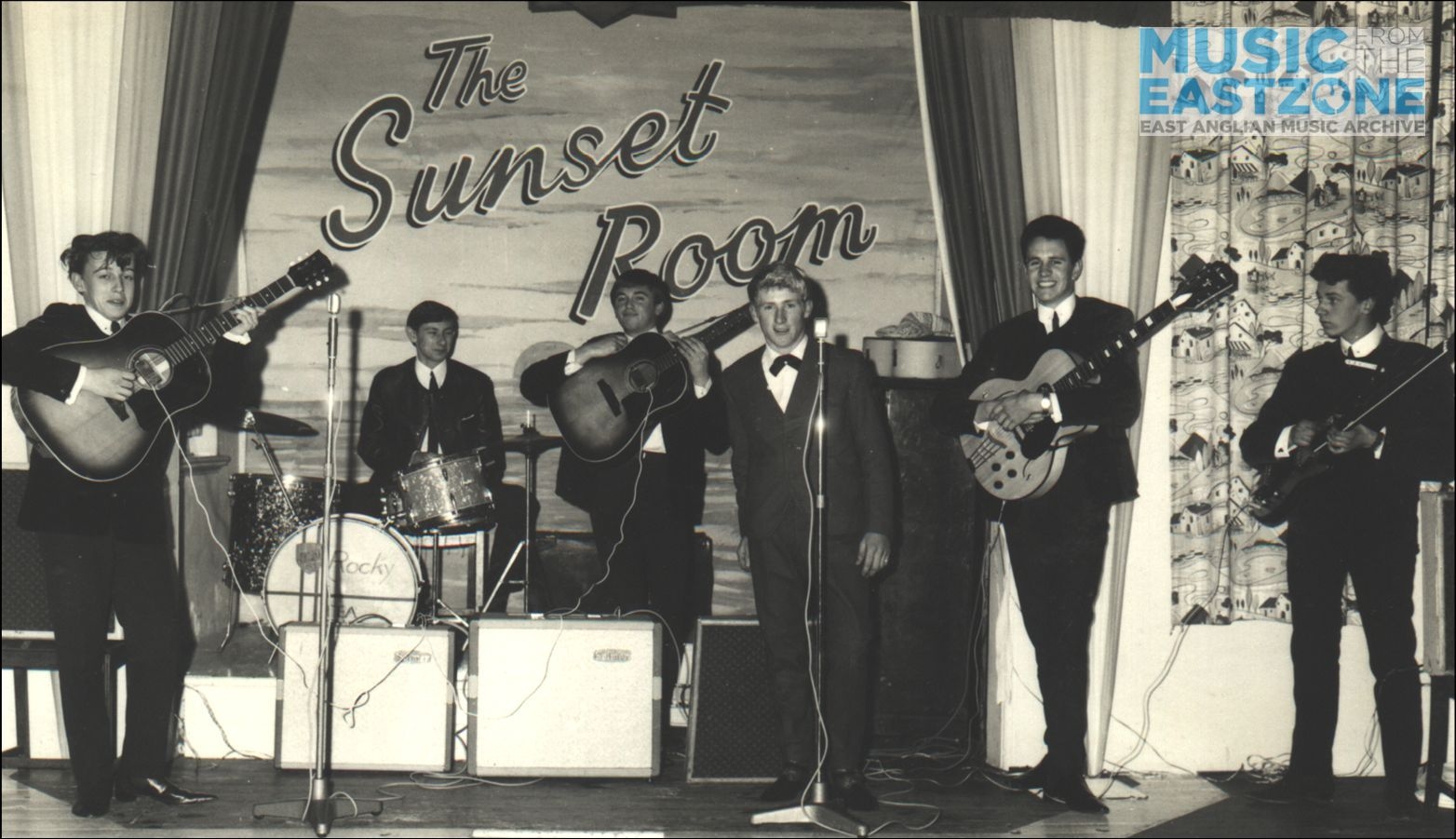 Also Known As:
Lombard And The Tea Time Four
Mike Prior And The Tea Time Four
Basic Information
Active Years:
M1963 - M1965

Lead Vocals: Dick Woods aka Lombard ??63-Feb64 (2)Mike Prior Feb64-Jul64
Vocals, Acoustic Guitar: Raymond Boz Burrell ??63-
Guitar: Barry Fats Dean > Bass ??63-Aug64 / ??65-??6?
Guitar: Bernard Rudd ??63-
Bass: John Cork (2)Bernard Barton Aug64-??65
Drums: Brian Rocky Brown ??63-
The Tea Time Four were a mix of King's Lynn and Spalding lads who formed in mid 1963 and first perform under the title Lombard & The Tea Time Four. "Boz and I founded the TT4 at school in Holbeach, with Fats on rhythm guitar, adding John Cork and Rocky when we went to Kings Lynn Tech. Dick Woods was the original singer and then for a short time Mike Prior. Boz eventually became the vocalist, and Fats switched to bass when John Cork left," said Rudd.
The groups first gig is belived to have been at Gedney Village Hall [date required] and one thing you will notice about early pictures of the Tea Time Four is there was six of them!
Cork is next seen in The Likely Lads and Prior moves on to join The Pagans.
In February 1964 the group were voted best beat band in the West Norfolk region in The LN&A Challenge Trophy Beat Poll a competition run by Bayes Records of King's Lynn in conjunction with the local Lynn News & Advertiser paper. The poll also had a best vocalist category and before the event concluded, Prior previously of The Escorts (Kings Lynn) had replaced Woods as the Tea Timer's vocalist and is declared the winner of that category. The band accepted their award on 25 February 1964 and were invited to perform on the BBC East's 6.10 programme the same day.
Management of the group was taken on by Colin Atkinson landlord of The Maids Head Hotel (Acky's Place) in the town's Market Square, a known venue for up and coming bands. He was joined by Jack Blumenow aka Jack Barrie, a chip shop owner in the town and together they form Atkinson-Barrie Management aka The Atkinson-Barrie Organisation. The new artist management company acquired a small office at 1 Chapel Street.
The group turned professional on 1 May 1964 and in June travelled to London to record two original tracks. Barrie announces that the A side is Laughing At The Blues and that the single can be bought through the agency, although will not be on general release. He adds that the tracks have been recorded for and sent to RCA Victor record label. Barrie soon relocates to London and becomes assistant manager to John Gee at The Marquee Club then situated in Wardour Street, while continuing to be the band's personal manager.
In August 1964 the group also relocate to London, where Dean departs and is replaced by Norwich man Barton. Dean is next seen playing in Norwich with The Bluebottles. The same month Barrie announces their contract with the The Robert Stigwood Agency. Stigwood represents The Rolling Stones and The Bee Gee's at the time. The press release suggested that the deal comes with an automatic record deal with EMI but later reports in October/November 1964 say the band are demoing for the RCA Victor label*. This rumour seems to have come from a report earlier in the year. Newspaper and magazine speculation at the time says the first single will be It Must Be Love or She Will Not Care but no single materialises going into 1965.
The TT4 were the first group to play at the new Bedford Beat spot in Norwich, opening the club on Saturday 22 August 1964.
The groups's big touring break was suppose to come in November 1964 when they signed up for Stigwoods, 24 date PJ Proby Tour. However, Stigwood and Proby fall out a week before the tour, over who should compere the show. Stigwood cancels Proby's contract and looks to fill the headline slot with Chuck Berry. A replacement that would have had the TT4 reeling with excitement as they had churned out more than a little Berry in their time. Berry, however, cannot get out of his US commitments and the tour is shelved at the last minute.
Just before changing name in mid 1965 Bob Booth recalls their visit to his studio in King's Lynn "The managers took everything the group did with them, out takes and everything, as far as I know, none of it was ever released, they were a great band but it was all kept under wraps"
In June 1965 with the prospects of a single release still having eluded them, The Tea Time Four became known as Boz People.
Discography:
Unk Studio, London - ??/06/64
7Act Laughing At The Blues b/w unknown track (untraced)
Unk Studio - c64
7Act It Must Be Love (untraced)
Unk Studio - c64
7Act She Will Not Care (untraced)
Bayes Recordium - 04/05/65
For You (untraced)
Unk Studio, London - c65
7Act Where Is The Sun b/w unknown track (untraced)
Mediograhy:
Tea Time Four and Mike Prior win the challenge trophies LN&A 25/02/64 (P)
Amateur pop group gets fan club UP 27/02/64
Smiles all round LN&A 03/03/64 (P)
Ouse Beat Group Has High Hopes UP 03/07/64
Big Contract For West Norfolk Beat Group EEN 25/08/64 (P)
New break for west Norfolk pop group EEN 03/09/64
They're New, They're Different! PW 17/10/64 (P)
Lynn R&B group go on UK Tour EEN 29/10/64 (P)
Norfolk group are in the news NM&J 06/11/64
Pick your top 'Beat' group LN&A ??/??/64
TV:
BBC East at 6.10 ~ track unknown aired 25/02/64
NB: It's often assumed Ian McLagan was part of The Tea Time Four or part of the group during it's transition period, however, McLagan's timeline and own testimony are now well documented and it's clear that he is introduced to the band by Jack Barrie as Boz People - see Boz People
NB: RCA Victor Records were once linked to EMI but according to Wikipedia severed ties with them in 1957.
Fan Club: 2 Stanley Street
Run by Linda Gant & Linda Griffiths (apparently the daughter and friend of Mrs Griffiths who worked in Jack Barries Fish Shop)
The Escorts <
> Boz People (Prior -The Pagans) (Barton - Bus Stop) (Cork - The Likely Lads) (Dean - The Bluebottles)