STROLLERS, THE (1)
Last updated: 14-04-2014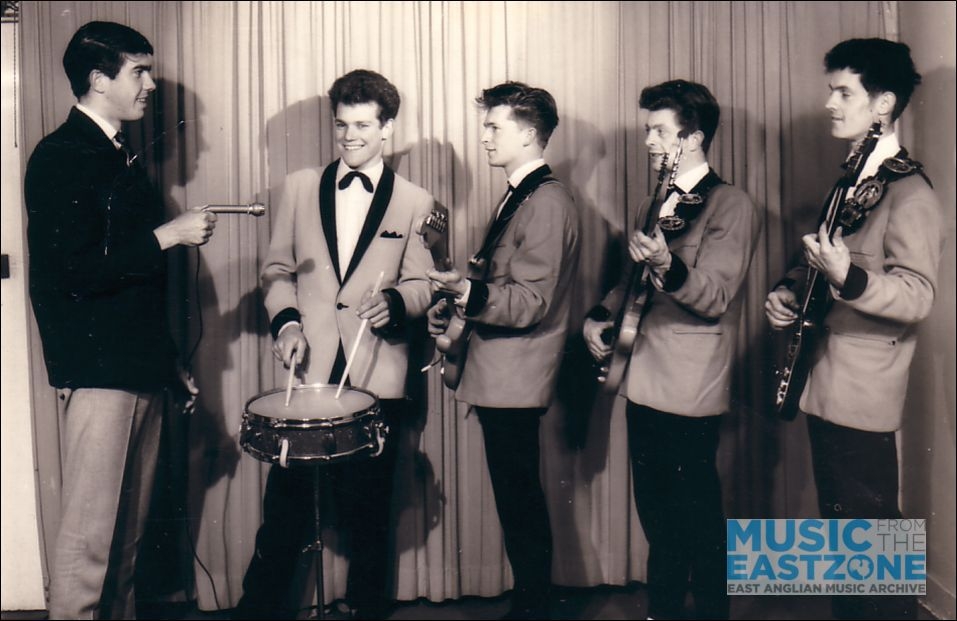 More Info Required
Also Known As:
John Allsop And The Strollers
Danny Eves And The Strollers
Basic Information
Active Years:
M1961 - L1965

Lead Vocals: Johnny Allsop
Lead Vocals, Keys: Danny Eves (2)Paul Ritchie
Guitar: David Seymour
Guitar: Derek Bruntone
Bass: Brian Seymour
Drums: Nigel Raines (2) [name required]
Brothers David & Brian Seymour along with friend Derek Bruntone were all budding guitarist living in West Norfolk's backwater Stoke Ferry. They studied their craft down at the Crown PH in the village joining the venues resident Drummer George Wright and Pianist John Bailey in regular jam sessions
In late 1961 the group were joined by John Allsop on vocals after playing at the in Lakenheath. John was already a bit of a local celebrity having entered Anglia TVs first broadcast talent contest 'Showdate' winning his heat and a place in the final. Nigel Raines came in as the groups permanent drummer to complete the first line-up of The Strollers. First spotted by the archive playing the Wayland Coffee in 1962 the picture to your left shows the band with John at the venue. In April 62 the band added a second vocalist in the way of Danny Eves who had been spotted playing with The Downham Market based Tuxcedoes® The vocal double act continued until 62 when john decided to move on. The bands fast crowing reputation earned them many top local billings and support slots to many of the more distinguished groups visiting the area. The group a residency at the well known venue the Lynford Hall. Derek Bruntone left in 196? and formed his own band the Bruntones featuring Ian Eves brother Danny on vocals. Danny
In early '65 the group disbanded when the Eves brothers decided to collaborate in a band specialising in the crowing popularity of Motown Music
Paul Ritchie played briefly Mark Anthony showband before joining the reformed Sabres in early 1966 .One thing I did notice when glancing through their archives is that the group appeared to have played more than their fair share of beauty pagents, I wondered just how calculated or coincidental this might be!
Supports: Nero & The Gladiators / Sounds Incorperated / Gerry & The Pacemakers / Joe Brown & The Bruvvers / Freddie & The Dreamers / Screaming Lord Sutch / Billy J Kramer / The Jaybirds / The Eagles (uk) / The Nitesounds / Michael Cox & The Jestors / Russ Sainty & The Nu-Notes / Terry Franks & The Avlons / The Rockin' Berries /Neil Langdon & The Burnettes / Johnny Kidd & The Pirates / The Tornadoes / The Naturals / Eden Kane & The Backbeats / Boz & The Boz People / The Persuasions / The Clique (London) / The Swinging Blue Jeans / The Cockneys / Band Of Angels / The Mersey Monsters / Mike Berry & The Innocents / Russ Sainty & The Nu-Notes
Residency: Lynford Hall, Mundford [date required]
Mediography:
Lynn Pop Show 'Hoodoo' again UP Udat [ ]
(Eves - The Tuxcedoes) <> Sounds Reformed / The Bruntones (Raines - ??)