SABRES, THE
Last updated: 02-10-2017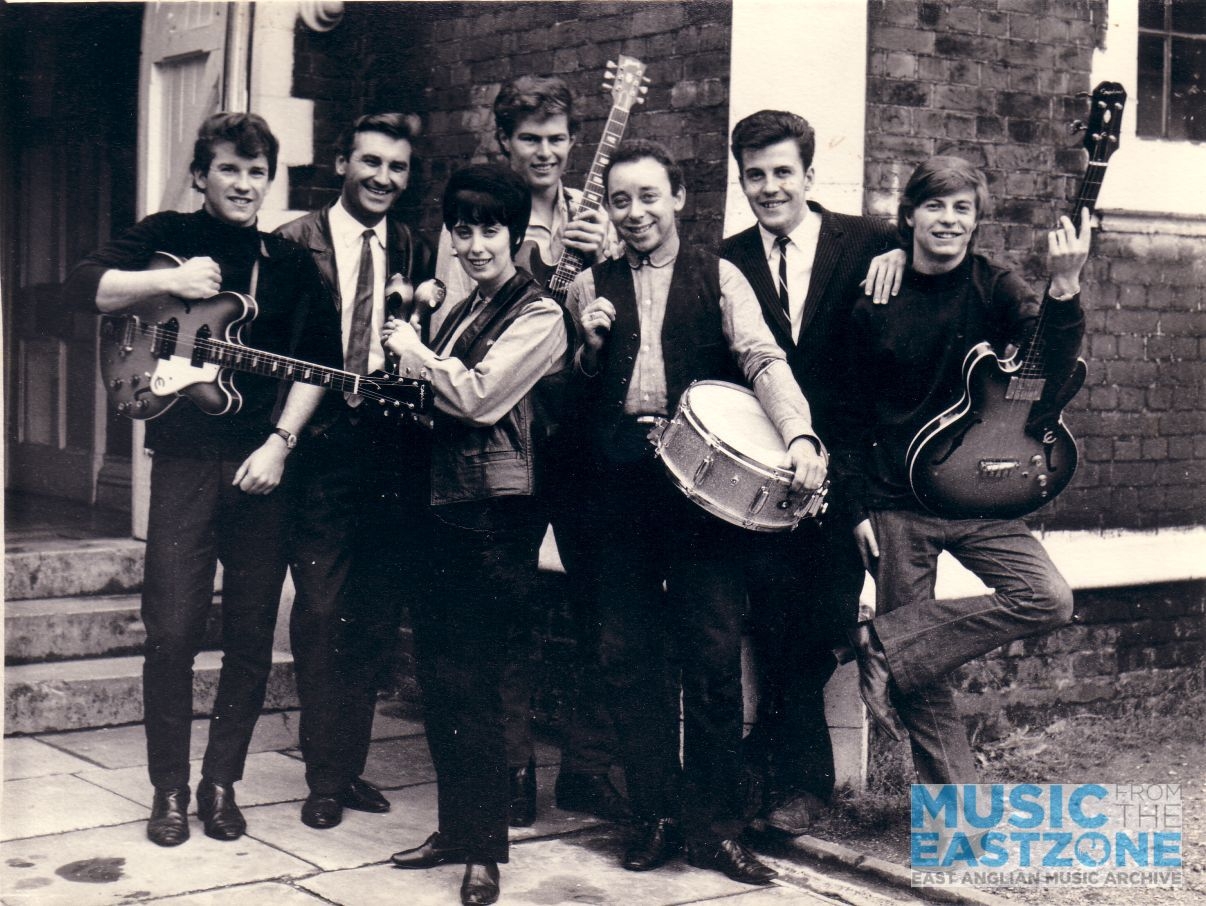 More Info Required
Also Known As:
The New Sabres
The Sabres Gyr
Basic Information
Active Years:
E1962 - E1965

Lead Vocals: Denny Raven
Lead Vocals: Linda Holden am-lnr
Guest Lead Vocals: Isabella Bond
Guitar: Tony Relph (2)Tony Pull
Guitar: Maurice Mo Pegg (2)Alan Drake
Vocals, Bass: Dave Stoddard (2)Peter Carter
Drums: Alan Lockwood ??-Nov62 (2)Dennis Scott Nov62-Apr63 (3)Ricky Meek Apr63-??65
The Sabres were doing their first stint in Germany the day that they were announced as runners up to the Tea Timers in Kings Lynns big beat contest in Feb 1964
Formed by guitarist & later manager Tony Relph from the remnants of his previous outfit The Starlights®. The band slowly built up a large fan base out in the West Norfolk wilderness and apart from the early departure of Alan Lockwood, who buy the way played drums despite having a wooden leg, the bands line-up remained solid, until the continental gigs. Alan's replacement came by the way of Dennis Scott from the Kings Lynn, Escorts. In Jan '64 The group headed off down to Ipswich to audition for promoter Ian Hines with sucess the prize of playing at Germanys, Top Ten Club in the Reeperbahn area of Hamburg, now infamous as The Beatles old stomping ground, and they passed. many local such as their friendly rivals The Escorts, but this in itself caused the band problems. The opportunity now Despite being offered a continuance of the first tour the band decided to return home and at that point Maurice Pegg decided to quit the band to be replaced by ex-Escort Alan Drake. Altogether the Sabres went to Hamburg three times-Jan'64/July'64/Nov'64. The gruelling schedule abroad meant that personnel changes were inevitable. Success home and abroad saw Tony Relph drop his performing roll for a managerial one. Whilst frequenting the neon lights of Hamburg the group rubbed shoulders with many future stars, Pete Best was looking for a new band and had the time to sit & talk to the group about his future plans and also those who only managed to tittered on the brink of stardom. Numerous appearances on German TV, but more importantly…. In 1964 the band went into Bayes studio's and recorded there first EP under the guidance of Bob Booth the result was an EP pressed up and sold through Bayes records in Kings Lynn. Next up was recordings for the German market The band finally folded in 196 , but Tonys dormant period didn't last long resurecting the Sabres in 196 , to become the all new Surfing Sabres
Rick Meek on the Top Ten Club: At 9.45 the lights would go up and anyone in the club under 18 had to go home, we then played till around four in the morning and people still wanted more.
Tours:
The Top Ten Club, Hamburg, Germany January -
The Top Ten Club, Hamburg, Germany July -
The Top Ten Club, Hamburg, Germany November -
Discography:
RtR Stupidity/Georgia On My Mind/Good Golly Miss Molly/Everybody Loves A Lover/Gzardas 26/05/1964
RtR Skinny Minnie/I'll Try/Feelings/No Time For You 31/08/1964
7"Actd Can I Get A Witness/Rock'n'Roll Music b/w I'll Try/No Time For You 1964
12" Ct Live Recording from The TOP TEN CLUB Hamburg, Reeperbahn 1 - Something Else Decca SLK16330-P[ ]64
12" Ct Live Recording from The Top Ten Club, Hamburg, Reeperbahn 2 -
Mediography:
The Sabres group go to Hamburg LN&A Udat[ ]
The Sabres a hit in Germany LN&A 25/2/64[ ](P)
Hard-Working Sabres On The Hamburg Beat LN&A 28/2/64[ ](P)
Sabres have singer from Germany LN&A Udat 64[ ](P)
TV: Junior Angle Club 196 / About Anglia 1964[ ]
(Pegg -The Volcanoes) The Escorts, KL (Pull -The Offbeats, KL)(Relph -The Starlight's) <
> The Surfing Sabres (Drake -Three Piece Sweet)