MOVING FINGER, THE
Last updated: 04-02-2018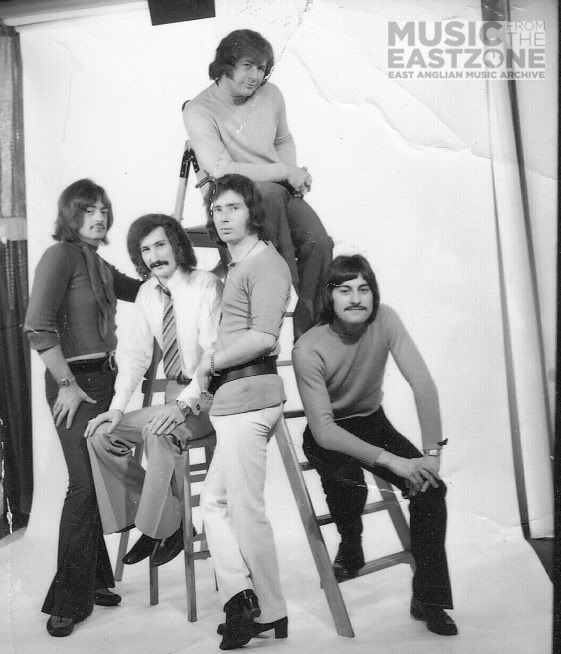 More Info Required
Basic Information
Active Years:
M1968 - L1974

Record Labels
Lead Vocals: Garry Freeman lnr
Guitar: Roy Bell
Bass: Ali Thorn
Keys: Clive Frindle aka Clive Clare (2)Dennis White (3)Brian Tatum
Drums: Hilson Hatley
CBS Records' lack of enthusiam to put out a second single, closely followed by the aborted possible release of Crystal's Tune on Polydor Records put The Anglians recording career in doubt, despite their being a popular live fixture. Released from all previous agreements the group signed to Mercury Records in mid 1968 and relaunched themselves as The Moving Finger. From here they found their time split between performing gigs and recording in the studio and by September 1968 they had enough recorded material to produce an album. Freeman said, "After a few months of doubt, we were once again looking ahead. After the release of our first single on Mercury we were talking to the label about sleeve designs and running orders for an album. We had recorded versions of The Bee Gees' I See The World and The Doors' Hello I Love You but by February the following year only a second single had materialised." The group grabbed some local headlines in October 1968, when they announced the writing of a concept album based on the translations of the Rubaiyat Of Omar Khayyam, a Persian poet and astronomer and they also took the time to set the record straight over their cancelled American tour. Bell told the EEN, "The Rubaiyat has always fascinated and intrigued us. For ages we've had a copy in the van, which we read and pass around when we are travelling. One day we were discussing it and it was suggested we put it to music. We have a long way to go and only have two songs at the moment." On the subject of the US tour Bell commented, "We're absolutely sick and fed up with the whole affair. The American Musicians Union have been against it from the start with their main concern being we were only playing three venues. For some reason this wasn't enough!" In January 1969 Frindle left the band; personal reasons are given for the decision but years later Freeman reveals that all of Clive's gear was stolen one night after a charity event and this really affected him. "He was a big part of the band and in hindsight for me, this was the beginning of the end," remarked Freeman. The group released their second single, a cover of Jackie Wilson's, Higher & Higher in February 1969 but the original US version outsold its UK counterpart. The group were then joined by organist White, who had previously been part of The Flowerpot Men. This new line-up is pictured in the EEN on 18 August 1969. The group's third single was set for release in the second week of September and entitled Live Together, Love Forever and the group talked about the release when interviewed on Radio One's Saturday Club, which was recorded at The Norwich Industrial Club on ?? September 1969. The third single wasn't forthcoming. "We were all getting a sense of deja vu," said Freeman. "The label had stopped talking about the album and on the live front we had augmented with showbiz drumming personality Eric Delaney. He wasn't sure about the group having a frontman, as it took the shine off him." Disolussioned with the hit and miss success of the band, Freeman left the group in early 1970 to concentrate on starting his own business, although he does continue to sing in locals outfits such as The John Selby Sounds. The remainder of the group continued to work with Delaney as well as playing as The Moving Finger. They brought in ex Mooche keyboard player and vocalist Brian Tatum, who had started in the beat boom with the Sudbury based Comets. The band continued until, 1974 releasing one last record on Decca with Tatum taking on the lead vocal, before splitting.
Discography:
7" Jeremy & The Lamp b/w Pain Of My Misfortune
Mercury Records MF1051 released 27/09/68
7" Higher & Higher b/w Shake & Finger Pop
Mercury Records MF1077 released 14/02/69
7" So Many People b/w Just Happy As We Are
Decca Records F13406 released 25/05/73
Cd Ct Jeremy & the Lamp -
Cd Ct Pain Of My Misfortune - We Can Fly Vol1
Past & Present Records PAPRCD2004 2000
12" Ct Pain Of My Misfortune - Rubble 19:
Past & Present Records PAPLP019 ??
CD Ct Shake & Finger Pop - New Directions 3:
Past & Present Records PAPRCD2063 ??
Selected advertised supports:
Max Bygraves / Lesley Crowther / Ken Dodd / Frankie Howard
Simon Dupree & The Big Sound / Desmond Dekker
Tours:
France: Paris & The Dracouest Club, Grenoble Oct-Nov 68
Mediography:
America bound - that's city men UP 30/9/68
Moving Finger plan Omar epic H&N EEN 28/10/68
Names & Faces - RM 16/11/68 (P)
City group on French TV H&N EEN 25/11/68
Moving Finger (Clive Clare) H&N EEN 13/01/69 (P)
Starting back on the road again H&N EEN 18/08/69 (P)
TV & Radio:
BBC East: Look East ~ trks unk aired ??10/68
Anglia TV: About Anglia ~ trks unk aired ??/10/68
French National Network, Paris ~ trks unk aired ??/11/68
BBC Radio1: Saturday Club (Interview) Sept 69
Residencies:
The Royal, Tottenham, London Jan-Aug69
The Anglians were dropped by CBS and signed to Arthur Howes Promotions, who amongst others handled Dave Dee Dozy Beaky Mick & Tich.
Disolussioned with the hit or miss success of the band Brian left the group in mid 68 1970? to concentrate on his partnership in the commercial signs business. The remainder of the group continued to work with who had becone increasinly involved with the band and was at the time to all intes and purpose acting as the groups agent., another factor that added to the departure of Garry. acting and the band continued until 1974 when a one off single deal with Decca saw released on the eve of the bands dispansion. Roy went on to join top national country band Fever but After Gary departure the group were left ostensibly without a singer and with a label willing to push their next single. Rumours started to fly that the band were changing their name to Cardboard, yes or that they had been asked to become part of Joe Browns new Bruvvers group, but Gary sang in calico and john selby
TALENT - They come to Norwich to Find It EENH&N27/04/70 - Roy and Ali talk about joining forces with Eric Delaney who they had previosly worked with. Eric had recruited Hilson, Thorn and Bell and also ex Mooche organist Brian Tatum. Bell says its kind of a heavy Blood, Sweat and Tears. Ali says: Moving Finger haven't really split up we are virtually the same and if we want to record on our own we can. Gary reported as going solo.
Clive's band days were ended when all the gear was stolen from their van sadly Roy Bell died in 1996 after t
In 1996 Gary was asked to perform at the first ever golden years gig, and put together a band just for the night that band have subsequently become known as the new contours The group
Supports:
Max Bygraves / Lesley Crowther / Ken Dodd / Frankie Howard / Simon Dupree & The Big Sound / Desmond Dekker
Tours:
France: Paris & Grenoble October 1968
Europe: Germany, Switzerland, Italy, Spain, Denmark April 1970 (with Eric Delaney)
Discography:
7" Jeremy & The Lamp b/w Pain Of My Misfortune Mercury MF1051 68 lst
7" Higher & Higher b/w Shake & Finger Pop Mercury MF1077 69 lst
7" So Many People b/w Just Happy As We Are Decca F13406 74 lst
Compilations
Cd Ct 'Jeremy & the Lamp' - [ ]
Cd Ct 'Pain Of My Misfortune' - [ ]
Mediography:
They're doing better all the time EEN 30/10/67[ ]??
America bound - that's city men EENH&N30/09/68[ ](P)
two single out in america/finishing touches to album/session work/offered hello i love you - doors, turned down but on the lp/jeremy an apple number by beatle proteges Grapefruit
Names & Faces - Record Mirror 16/11/68[ ](P)
TALENT - they come to Norwich to find it EENH&N27/04/70 (P)
TV:
BBC Look East Oct 1968[ ]
About Anglia Oct 1968[ ]
Anglians <> (Freeman - The John Selby Sound)