LEW DAY
Last updated: 13-01-2015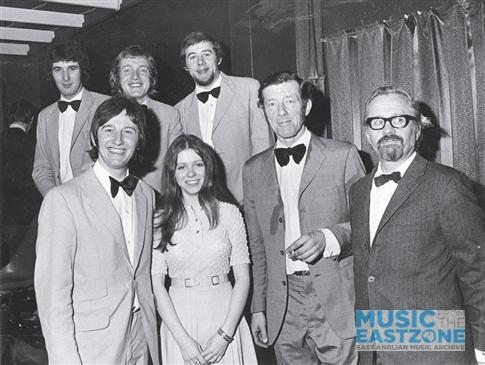 More Info Required
Also Known As:
The Lew Day Quartet
The Lew Day Trio
The Lew Day Set
Basic Information
Active Years:
E1968 - 1970s

Lead Vocals: Sandra Gooch am
Guitar: Lew Day
Keys: Ken Southey
Bass: Nick Day (2)Kenny Kent
Sax: Dave Cossey
Trumpet: Ian Brighton
Vocals, Drums: Pete Allen
unplaced musicians: George Wortley / Alan Denis / Derek Standley / Pete Oxborough / Pat Lawson / Lionel Black
Many line-ups have been found for Lew Day and this is because in part he operated anything from a trio to a seven piece band to fullfil engagements, sometimes more.
London born guitarist Lew got his first taste of Norwich back in 1948 when The Stardusters sat in residence at The Samson & Hurcules. He returned to join The Brian Green Orchestra in 1957 and takes over the leadership of the band when Brian becomes ill a year later.
Lew goes on the join the well known Ken Steven's Band but leaves in April 1968 to form his own band.
The Lew Day Set were resident at the Dorothy Ballroom Cambridge from 1969 -1971 and gigged all over Cambridge and East Anglia - Gooch/Day/Southey/Kent/Cossey/Brighton/Allen - source Dave Cossey