GLASS WHEEL SHOW BAND, THE
Last updated: 03-04-2017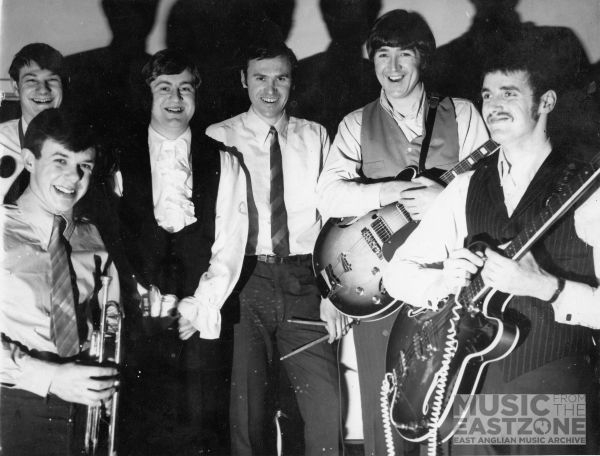 More Info Required
Basic Information
Active Years:
L1968 - C1972
E1973 - E1978
E1979 -

Lead Vocals: Ivan Pearce (2)Keith Huxley Apr73-Nov76 (3)Steve Dann Oct76-???? (4)Trevor Ashton Apr79-
Guitar: Kenny Woodgate Dec68-
Bass: Mervyn Brown (2)Gerry Reid
Trumpet: Louie Moore (2)Steve ??
Sax: Graeme Brown (2)Phil Hitchum
Keys: Ian Dawson am
Drums: Roger Spietals (2)Bob Fuller (2)Andy Drake (2)David Elson
Kevin Kelly 16/01/76
Vic Stone 20/03/76
Eric Forder 04/08/76
Tony Jones 30/08/76
Pete Wilkinson 30/08/76
Steve Dan + K 16/10/76
Steve Dan + K 30/10/76
Steve Dann + K - Keith leaves 06/11/76
Steve Dann 19/11/76
reformed 14/04/79
Lead Vocals: Trevor Aston Apr79-Sept79 (2)Keith Huxley Oct79-
Guitar: Kenny Woodgate
Keys: Ian Dawson Apr79-
Sax: Phil Hitchum Apr79-
Sax: Pete Wilkinson Apr79-Nov79 (2)Steve Fiddles?? Nov79-Dec83 (3)Mel ?? Dec83-

Trumpet: Tony Jones Apr79-Sept79
Bass: Roy Upstone Apr79-Sept79 (2) Mervyn Mo Brown Sept79-Jun80 (3)Mike Godfrey Jun80-Dec81
(4)Dave Watson Jan82-

Drum: Andy Drake Apr79-Jan83 (2)Gary Diew?? Jan80-

Lou?? leaves Jimmy joins Jan86 - from diary
The band formed out of the remains of Lowestoft avante guard band Purple Edge with ex Some Other Guys frontman Pearce and the addition of a horn section. The group played their first gig at The Old Theatre Centre, Pakefield on 21 December 1968. The band ran until ??/??/72 before splitting. The group reforms on 28 April 1973 playing a private party in Wroxham.
"I was with Glass Wheel from about 1970 to 1978 the band existed from around 1968 through to the late 1990's possibly early 2000's [unconfirmed]. It was a Lowestoft band where all the members lived from inception until about 1973 when we brought in Steve Dann, Tony and Pete. The name was changed to Airport in about 1976 when we played one of our original songs called You Can Help Us Make It on the Hugh Green show. In about 1978 the band amicably split into two bands as an eight piece, sometimes even a ten piece band did not have many venues to play at. The Lowestoft contingent revived the Glass Wheel name with a new singer while the Norwich band, including me, the singer, drums and keyboard revised Airport to Riporta which was changed to Reporter because nobody ever got the spelling correct. We found a new guitarist and gigged primarily in Norwich. [source Gerald Reid]
Resident at Floral Hall (Dave Clayton)