FEEL FOR SOUL
Last updated: 11-12-2014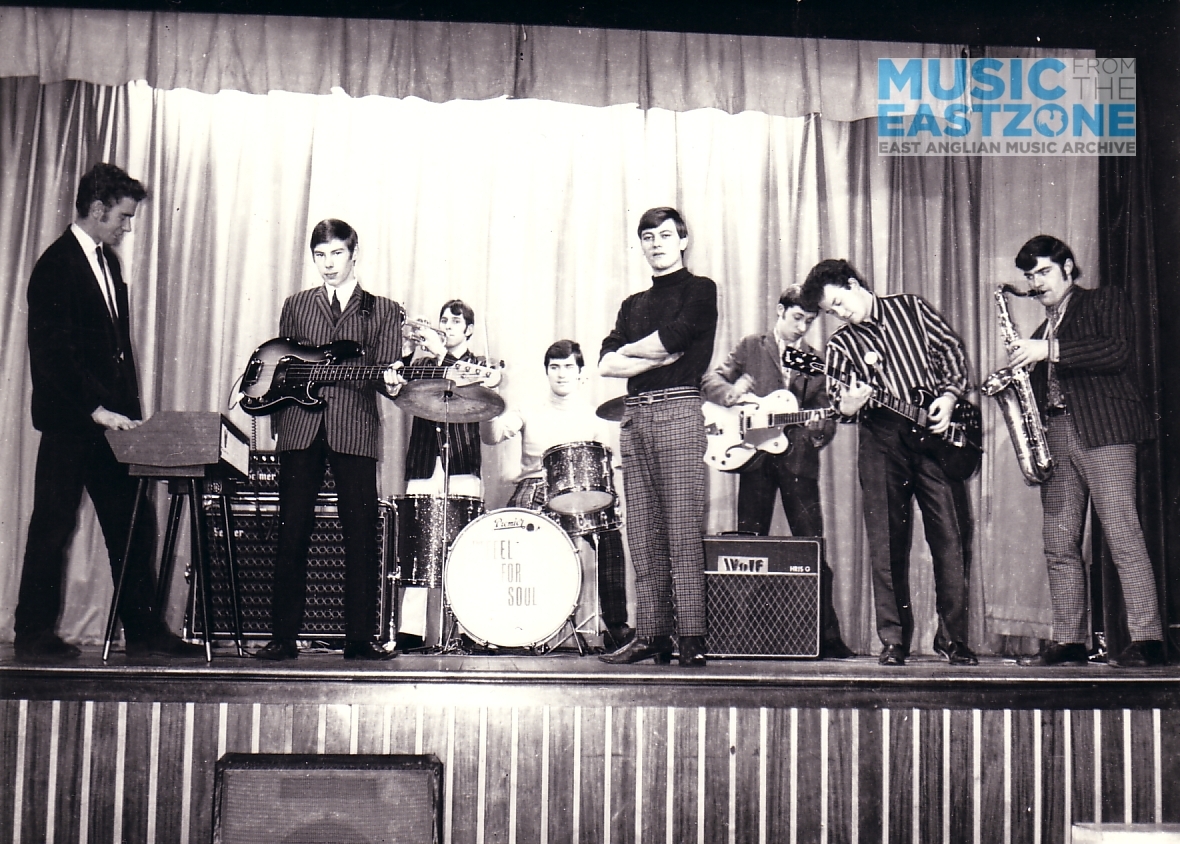 More Info Required
Also Known As:
Boz And The Feel For Soul
The London Allstars
The New London Allstars
Basic Information
Active Years:
M1966 - M1968

L1966 to M1968
Lead Vocals: Dave Quinton (2)Raymond Boz Burrell
Guitar: Stuart Fuller (2)Ronnie Daring
Bass: Paul Moss (2)Colin Clegg
Keys: Keith Burbury (2)Brian Tatum > Lead Vocals
TSax: Julian Revell
BSax: Chris Green
Trumpet: Norman Samways
Drums: Jeff Revell (2)Clive Monen
Only months after the flagging Cheaters had rejuvenated themselves they changed there name to Feel for Soul, initially toying with the title Gass Revolution. Although the only original Cheater left was lead vocalist Dave Quinton the group wanted to pursue the new soul sound that had become popular and the eight piece outfit Feel For Soul was born.
The group contained many seasoned musicians and were an instant success on the local scene, however, it took only a matter of months after the groups first UK Tour for it to turnaround many of its personal.
[unchecked notes]
f their own doing poor organisation outside their control left the now professional band struggling to make ends meet and feat hard enough for a four piece group! been one of e In 196 the band many of the members felt that the band were established enough to turn professional it was at this point that changes in line-up occured as those who did not feel the band was ready for the . Dave left to form Sounds Naturel and was replaced by professional singer Boz Burrel who was at the time signed as a solo singer to Columbia records the full sound provided by the FFS was an excellent vehicle for promoting his of the band short stint down to work commitments left the seat free for Pete Reynolds.
Ironically the groups biggest break also proved to be it's downfall, it came in February 1968 when they were chosen to back The original Drifters on their UK tour. The band were to play over 30 dates taking in all the major UK dates throughout England
The group posed as The New London All-stars for many of the shows and the tour was extended twice before coming to an end, in but the Tour had left the band broke. Unpaid appearance money had not only threatened the professional status of the band but the groups transport was now also in disrepair disillusioned & broke and the group was dissolved.
The Cream March 12th 196 ? Tavern Club Dereham
Stuart leaves band October 1967 decides he doesn't want to tour.
Pete went on to become lead singer with Ronnie joins blue street soul may/June 67 In July 67 it looked as though the band had bagged a gig in tropical Bermuda
Supports: The Original Drifters / The Soul Reasons / The Cream /The Gass / Tyburn Ashes / The Monopoly / Jeff Beck / The Marmalade / Max Bear & The Chicargo Setback
Tours:
UK Feb/31st March 68 - The Original Drifters
Mediography:
City group Feel For Soul in line fabulous Bermuda booking H&NEEN 17/07/1967[ ](P)
Audition for Feel For Soul EENH&N 23/10/1967[ ]
Feel For Soul get the job but lose guitarist EENH&N 30/10/1967[ ]
London booking for local group UP Udat[ ]
Feel For Soul big hit in London EEN Udat[ ]
Another tour offer EENH&N 06/11/1967[ ]
Inhibited Yarmouth audience EENH&N 15/04/1968[ ]
Feel for Soul dates fixed EENH&N 12/02/1968[ ]
Rave start for FFS EENH&N 26/02/1968[ ]
Break-Up for FFS EENN&H 13/05/1968[ ]
Books:
Beat Bands Of The Sixties [details required]
(Tatum - Mooch) (Daring - Eyes Of Blond) (Clegg - Eyes Of Blond) The Cheaters (Burrell - Boz) <> (Quinton - Sounds Naturel) (Daring - Blue Street Soul)