CHEATERS, THE
Last updated: 09-04-2014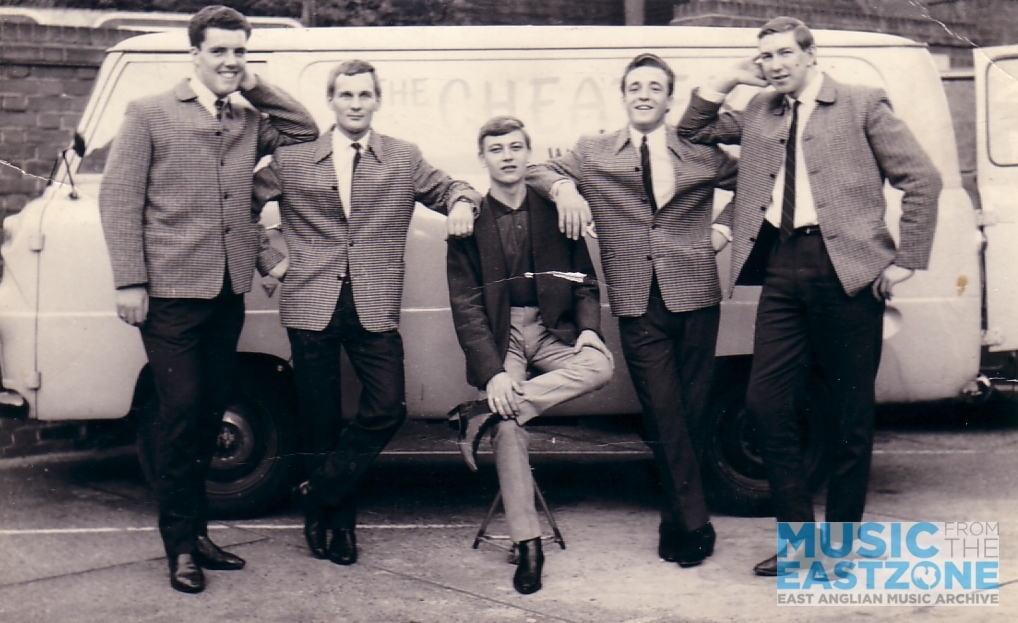 More Info Required
Also Known As:
Dave Quinton And The Cheaters
The Cheaters Gyr
Basic Information
Active Years:
L1963 - L1966

Lead Vocals: Dave Quinton
Guitar: 'Big' Bill Grant (2)Julian Revell
Guitar: Alan Aldred (2)Stuart Fuller
Bass: Nigel Marrison <> Chris Green
Keys: Keith Burbury (added member)
Drums: John Riches (2)Jeff Revell
uncheck rewrite add corrections
From the age of eleven choir member Dave Nicholas delighted the congragation of the St John baptiste church situated at the top of Norwich's infamous land mark, Timber Hill and was at sixteen busking the streets of city. His love of music and employment at Colmans Mustard soon saw him meet up with like minded debutants and the five work colleages formed The Cheaters. The Group traveled around in their Ford Thames van, but at the point of signwriting the van the band had decided the name Dave Nicholas & the Cheaters lacked appeal and was one letter to long for painting on the van so Dave borrowed the surname of work colleage Peter Quinton to give the group the title Dave Quinton & The Cheaters. The original line –up of the band remained
The band rose to the heights of regularly performing the capitals circuit as well as the big east anglian clubs
In 1966 the band had ground to a halt, several successive line up changes had taken there toll, it was at this point that the band inadvertently met up with another struggling Norwich band, The Four Dimensions. The groups joined forces and began rehearsing and until the group then became Feel for soul
In oct 66 the cheaters became feel for soul
Despite periods of deposition from a series of other well known and established musicians when various members could not make the gig. The new cheaters were an immediate success and in 1966 leaving Dave to go on and front the R&B/Soul outfit "Feel For Soul"
Lead Singer Dave Quinton alias David Nicholas once shared the same bill with Rod Stewart.
Played Red Lion December 63
Supports: Rockin' Henri & The Hayseeds / The Drifters / Trax /Max Bear & The Chicago Setback / Spectrum / Phase Five / Weston Union / Pink Floyd / Theory / The Chantells / Monopoly / Zoot Money / Tender Trap / Cream / The Alan Price Set / Gass / The Lemon Line / Wages Of Sin / The Herd / The Jeff Beck Band / The Prophets / The Knives & Forks / Fluer De Lys / The Faries / The Endeavours Ltd / The Symbols / Sonny Childe & The New Elders Consolidated / Doug Gibbons & The Outsiders / Georgie Fame & The Blue Flames / Mike Berry & The Innocents
Mediography:
This club is OPEN HOUSE to the Norwich young NM&J 14/10/66[ ](P)
Quinton can't quit EEN 16/5/97[ ](P)
City group give up jobs to play in Costa Brava EEN H&N Udat[ ](P)
(Marrison - The Midnights) The Four Dimensions <> Feel For Soul