BROKERS, THE
Last updated: 15-10-2017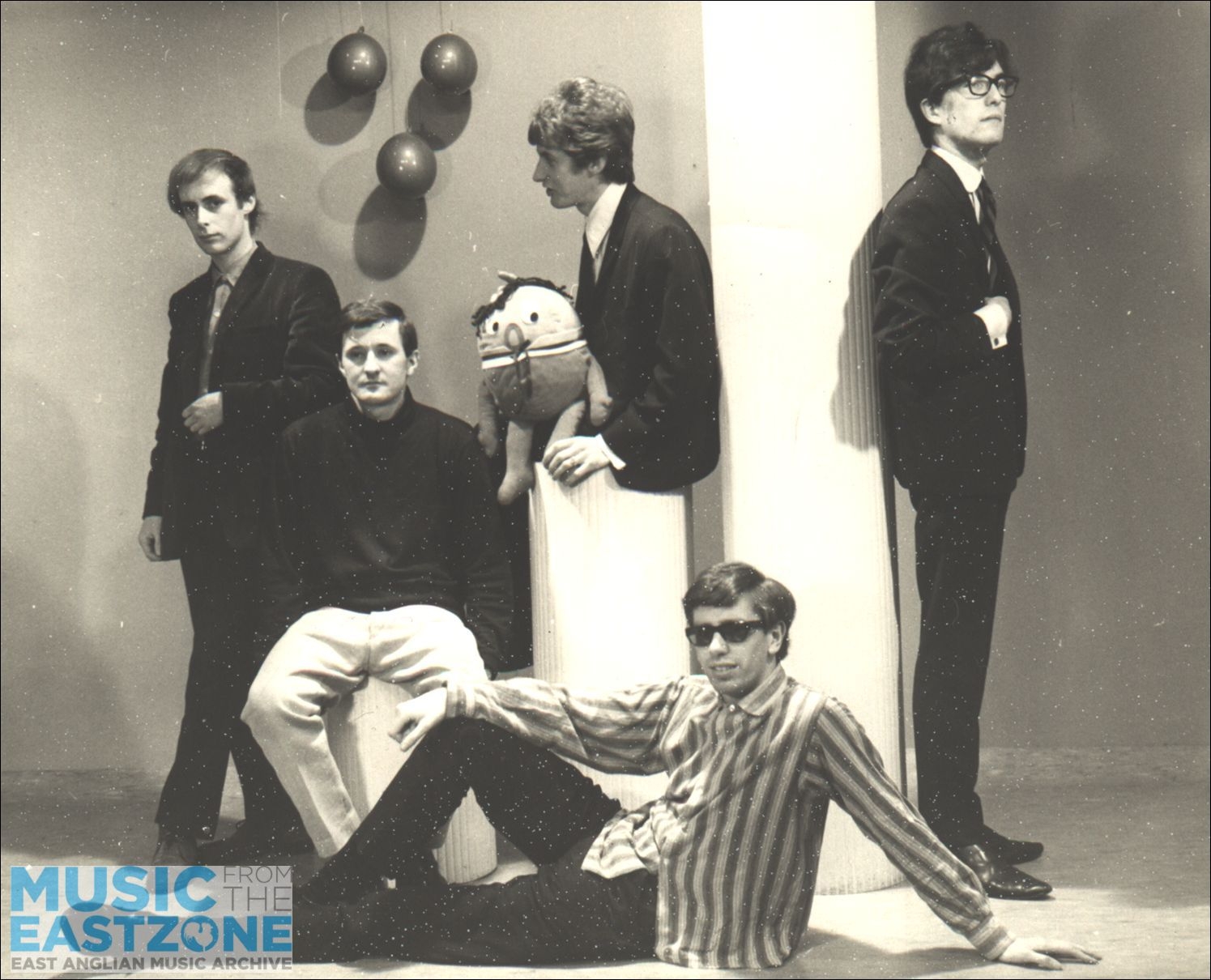 More Info Required
Also Known As:
The New Sound Brokers
The Porn Brokers
Basic Information
Active Years:
E1964 - L1966

Lead Vocals: Barry Houseago (2)Roger Moon + Guitar
Guitar: Peter Hull >Bass (2)Roger Bunn (3)George Parsons (4)Alan Callf
Bass: Michael Eke (2)Peter Hull
Keys: Edward Eddie Huggins
Saxophone: John Bloomfield
Drums: Roger Spruce
unplaced musicians:
David Pennington
Looking to make headway in the music business, The Gressenhall, Cyclones had weathered the worst of the storm and were taken under the wing of local promoter Dick Bloy who with the addition of ex Moonraker Roger Ned Spruce on Percussion and pianist Edward Eddie Huggins previously of his own trio (Eddie Huggins Trio, Orford Celler June 1963) became The Porn Brokers, soon to be redefined as The Brokers. Having first been portrayed as a manufactured band they were actually put together by Roger Moon after his days with Norwich group The Toffs, Moon was already singing with the band as Roger Moon and the Cyclones and brought in Bunn and others. In March 1965 Roger Bunn swapped places with guitarist George Parsons of The Breakaways but the change was short lived as George soon moved on [May 1965 unconfirmed] and was replaced by the familiar face of Alan Callf who had just finished a spell with Terry Kaye and the Classics. Around the same time they also added John Bloomfield from the unusual background of the jazz inspired Mustard City Stompers.
The groups manager, Dick Bloy had high hopes for the band and they got off to a flying start playing to a 700 strong crowd at Derehams, Sunshine Rooms in order to win a place in the grand final of the Norwich Mercury Beat Contest on the 25th May 1965. Dick proclaimed them to be the New Sound Brokers another mantle by which the band would become known. The group performed in the final at The Norfolk Showground during the Royal Norfolk Show on the 1st July 1965 but were unplaced. The group split in late 1966. George Parsons and Roger Moon teamed up again when joining the ashes of the Southern Trust to form The Pleasure Machine. Roger Spruce opted to become a lounge drummer with various pianists and vocalists until joining The Skylinners in the Mid 70's.
Supports: The Barron Knights / Dana Gillespie / The Gentry / The Moquettes / Lee Allen & The Sceptres / Wayne Gibson & The Dynamic Sounds / PJ Proby
Mediography:
'He claims local groups can match big boys' NM&J28/8/64[ ](P)
'First All-Girl band enters' NMJ 9/4/65[ ]
'Great with capitalG ''' NM&J 28/5/65[ ](P)
(Moon - The Toffs) (Callf - The Classics) (Spruce - The Moonrakers) (Parsons - The Breakaways) The Cyclones <
> The Pleasure Machine (Hull - Sounds Reformed)